Accreditation and Course Credit
Areteem Courses are WASC Accredited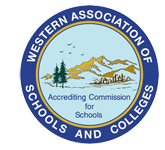 Areteem Institute courses and programs are accredited by the Western Association of Schools and Colleges (WASC) as Supplementary Education Programs.
School Credit and Advancement with Areteem Courses
As an accredited institution, Areteem Institute can provide a formal grade and course transcript to students who wish to use one of Areteem programs for school credit or to skip a class in school.
Each school has its own criteria and procedures for using supplemental programs for school credit. Parents or students will need to contact their individual schools for the specific steps needed. We recommend parents or students contact their school in advance, as well as email us at info@areteem.org. Our Student Service team will be happy to help!
Approved Service Vendors for Areteem Programs
Certain schools, especially charter schools or homeschool networks, may provide Areteem programs as a choice for their students. In these cases, students may be able to take an Areteem course with no out-of-pocket cost.
Below is a list of select schools and networks that Areteem Institute has or has had an approved service vendor agreement with. Do not see your school listed? Contact us at info@areteem.org for help! Our Student Service team will be happy to discuss options with you. If your school, network, or district has a vendor system in place, it may be possible to get your Areteem course approved.
Blue Ridge Academy (Los Angeles, Ventura, and Kern Counties in California)
Cabrillo Point Academy (Orange County in California)
Cottonwood School (El Dorado, Amador, Alpine, Placer, and Sacramento Counties in California)
Feather River Charter School (Sacramento, Yolo, Yuba, Sutter, and Placer Counties in California)
Granite Mountain (San Bernardino, Riverside, Los Angeles and Orange Counties in California)
Heartland Charter School (Kern, Tulare, San Luis Obispo, Santa Barbara, Los Angeles, San Bernardino, Inyo, Kings, and Ventura Counties in California)
Lakeview Charter School (Glenn, Butte, Lake, Mendocino, and Tehama Counties in California)
Mission Vista Academy (Riverside and San Bernardino Counties in California)
Winship Community School (Sacramento, Yolo, Yuba, Sutter, and Placer Counties in California)